Review Posted 10/07/18
Tarte cosmetics is a cruelty free cosmetic line that sells vegan and non vegan products. The shipping costs to Australia are quite expensive but if you purchase over $80 you can receive free shipping.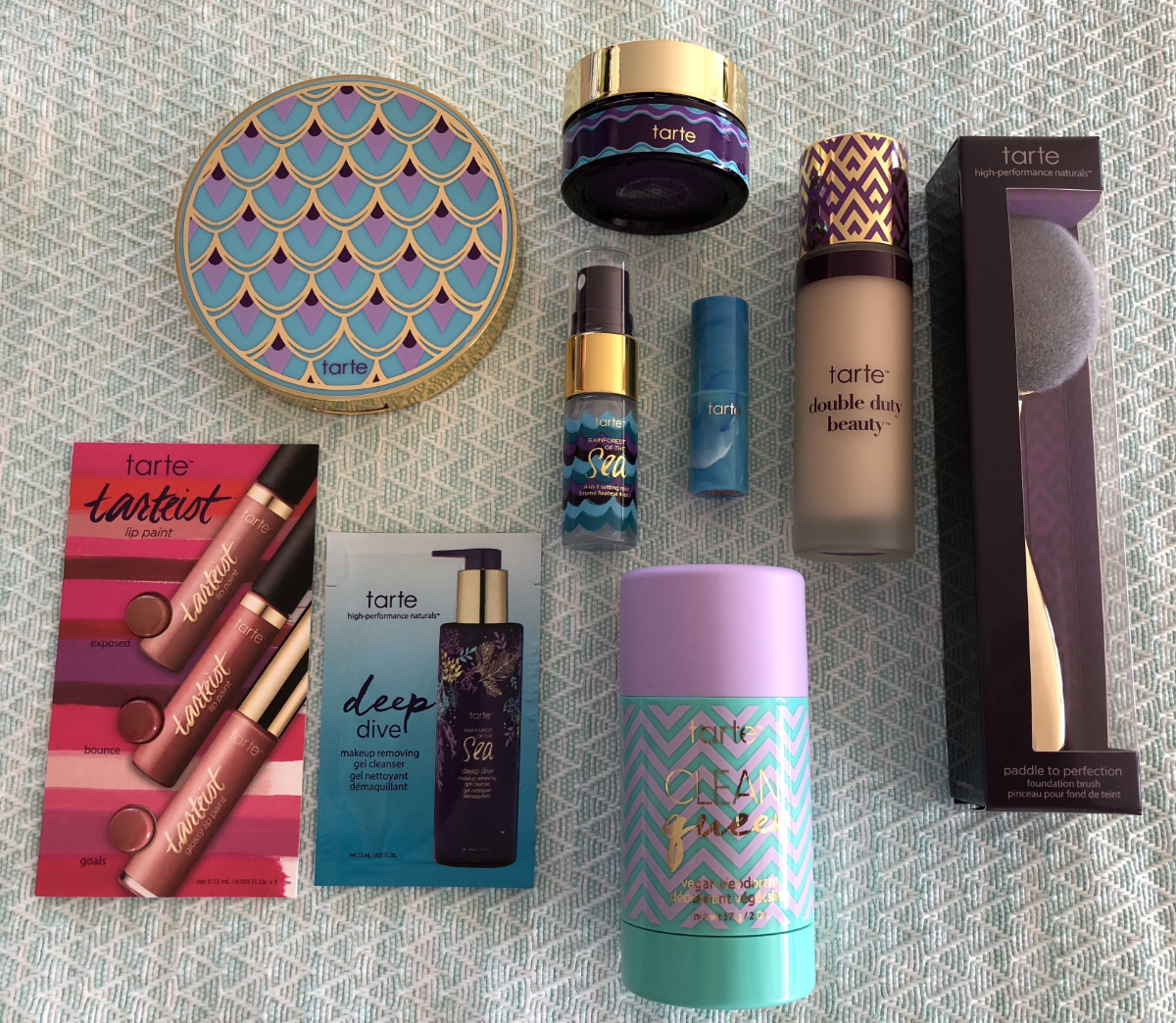 Clean Queen Vegan Deodorant
I was in the market for a new vegan deodorant so decided to give this a try. To say the least I was not impressed at all. The first day I ended up with body odour which is not what a woman wants. The second day was exactly the same. I found there was hardly any scent which I do not mind as I do not like strong perfumes, but this really had nothing. I would not recommend this product.
Shape Tape Matte Foundation
This foundation feels extremely light on and has full coverage. It lasted all day and night. It was beautiful to wear and has a flawless finish.
Paddle to Perfection Foundation Brush
This brush is great for blending in your foundation. It has a lovely feel on your skin with a streak free finish. I was extremely happy with this foundation brush.
Rainforest of the Sea Highlighting Eyeshadow Palette Vol III
I absolutely love this crease-free eyeshadow palette. It has a lovely texture and it lasts all day and night. The colours are gorgeous on making your eyes appear nice and bright.
Rainforest of the Sea Colour Splash Hydrating Lipstick Island Life (Rosy Mauve)
This is a beautiful colour for day or night wear. I found the lipstick hydrating and wore off subtle and evenly.
Rainforest of the Sea 4 in 1 Setting Mist
This setting mist can be used for multiple purposes, a primer, makeup setting spray, hydrating mist and skin refresher. I have not tried it as a primer but I did find it to be a great setting mist as my makeup lasted all day and night. Perhaps the spray could be a little lighter but overall I was happy with it. It does not leave white spots on your face like some other setting sprays do. It is extremely hydrating and refreshing. I find it great to wear when I do not wear makeup just to freshen my skin.
Rainforest of the Sea Drink of H2O Hydrating Boost
I absolutely love this hydrating boost. It has a pleasant smell and absorbs quickly into the skin. I find a lot of hydrating face products to be extremely heavy and greasy which makes me break out in pimples, but this product is non greasy and extremely light weight on. It is hydrating and just feels beautiful on. I use this product every morning and night and just love it.
Deep Dive Cleansing Gel
I find this cleansing gel has a very strong smell which I am not fond of. I am quite sensitive to smells and I just can not use it. It does take off your makeup well and even stubborn mascara which was great. Unfortunately it is just not a product I will continue to use.
Overall I am quite impressed with Tarte Cosmetics. There are some products I would not purchase again but others I would. I have found it to be a little bit more expensive compared to other brands but I feel if a makeup product suits your skin then why not stick with it.