Gardein Sizzling Szechuan Beefless Strips
Review posted 01/05/18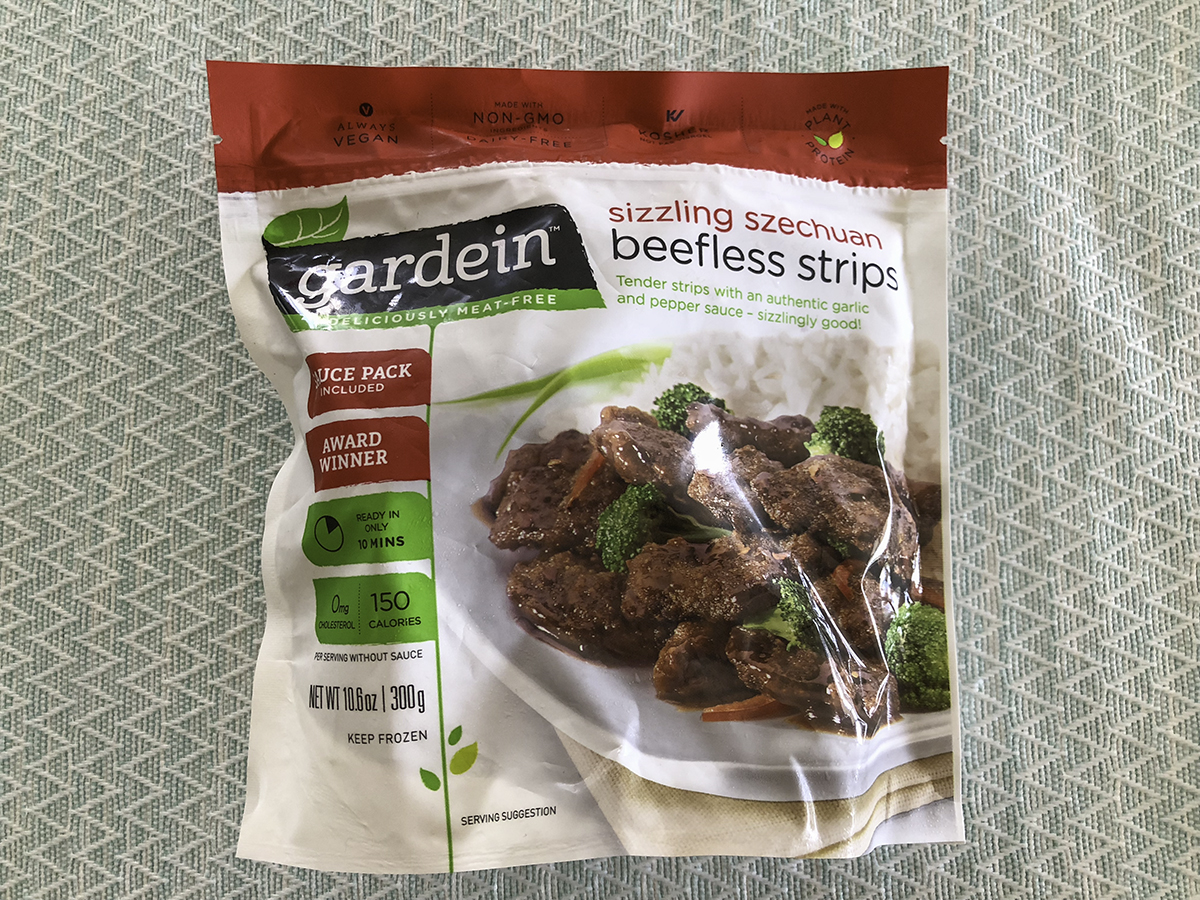 Tasty and delicious. Most Gardein products are very well made and taste good. The Sizzling Szechuan Beefless Strips are good mixed in a stir fry or with mashed potatoes. Very easy to prepare. We normally throw the beefless strips in the air fryer to cook and then mix in the sauce in a bowl before serving.
Ingredients:
water, expeller pressed canola oil*, vital wheat gluten*, soy protein isolate*, yeast extract, malted barley extract, garlic powder, onion powder, organic cane sugar, sea salt, natural flavors (from plant sources), pea protein, carrot fiber, beetroot fiber, spices, molasses, wheat starch*, soy lecithin*. breading: water, wheat flour*, modified corn starch, tapioca starch, yellow corn flour, onion powder, salt, garlic powder, wheat gluten*, baking powder, malted barley extract, canola oil, yeast, soy flour, spice, sugar, xanthan gum. sauce: water, organic cane sugar, soy sauce (water, wheat, soybeans, salt, alcohol**), plum, organic miso paste (organic soybeans, organic rice koji, sea salt, water, koji spores), garlic, expeller pressed canola oil*, corn starch, onion powder, spices, citric acid, red chili flakes, sea salt, xanthan gum, yeast extract, vinegar. *Non-genetically engineered soybeans, wheat and canola. ** Product contains less than 0.5% alcohol.
vegan
Manufacturer Info:
Gardein is a Canada based company. Products are manufactured in Canada. Gardein only manufactures vegan products, but Gardein's parent company, Pinnacle Foods, manufactures non vegan products .
Click Here For Manufacturer's Website