Salted Caramel Tart Recipe
Recipe Posted 21/05/18
This recipe is for our vegan Salted Caramel Tart. As with most of our recipes, people you serve it to will not even know it is vegan. It tastes just like the non vegan version.
This recipe takes about 60-70 minutes to prepare and cook.
Serves 4-6 people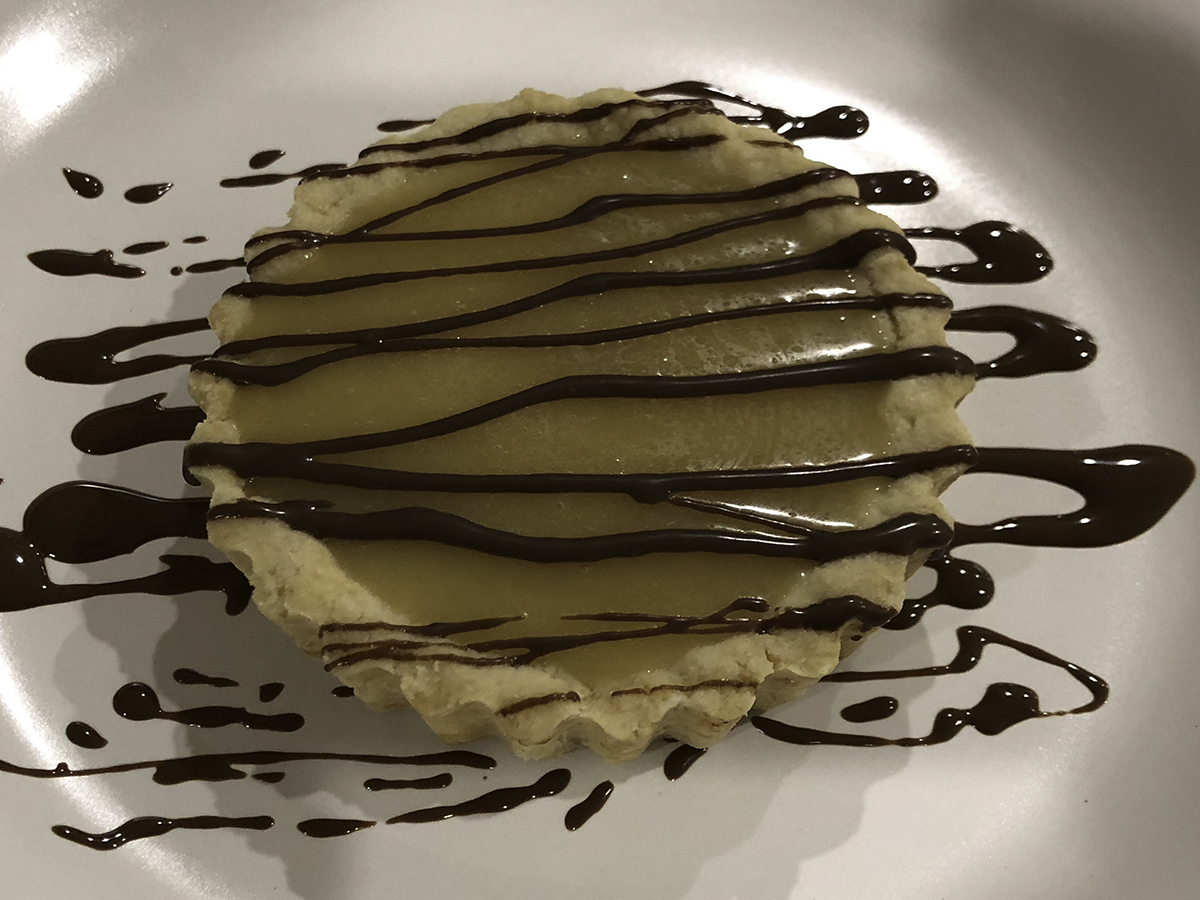 Ingredients
Short Crust Pastry
1 1/2 cups plain flour
125g Nuttelex or other vegan butter
3 tablespoons chilled water
2 tablespoons white sugar
1 tablespoon apple cider vinegar
1 teaspoon baking soda
Salted Caramel Filling
330g condensed soy milk
20g Nuttelex or other vegan butter
2 tablespoons golden syrup
1/2 teaspoon salt
Chocolate Topping
75g vegan baking chocolate
Cooking Instructions
Short Crust Pastry
1. Pre-heat oven to 180 C
2. Combine flour and sugar in a large mixing bowl.
3. Add Nuttelex and use a pastry cutter (or fork) to cut the two together, until it resembles breadcrumbs.
4. Mix apple cider vinegar and baking soda in a cup.
5. Add vinegar/baking soda mix and 2 tablespoons of chilled water into the mix, using your fingers to work into the mix until a dough starts to form. Add another tablespoon of chilled water if necessary.
6. Once dough is made, place on a lightly floured surface and knead until smooth. Shape into a ball and cover with plastic wrap. Refrigerate for 30 minutes.
7. Roll out pastry between two sheets of baking paper until 5mm thick. Place pastry into greased fluted tart pan. (You can use one large fluted tart pan or 5-6 small, individual sized ones).
8. Line pastry base with baking paper. Fill with ceramic pie weights or uncooked rice. Bake for 10 minutes or until edges are light golden. Remove weights or rice and paper. Bake for a further 5-10 minutes until the base is golden. Take out and let cool.
Salted Caramel Filling
9. Melt Nuttelex in a small saucepan over medium heat.
10. Add golden syrup and whisk to combine.
11. Add condensed milk and salt, whisking as you go.
12. Whisk caramel for a further 6 minutes then remove from heat.
13. Pour caramel into the cooled tart base and set in the fridge for one hour.
Chocolate Topping
14. Melt baking choc chips in the microwave in 30 second increments until melted, stirring in between each increment. Be careful not to burn the chocolate.
15. Drizzle over the top of the Salted Caramel Tart.
The Salted Caramel Tart is now ready to serve. Enjoy.