Hollywood Mac N Cheese Recipe
Recipe Posted 23/04/18
This recipe is our own take on macaroni and cheese, with vegan chicken and Cap'n Crunch cereal. It is absolutely delicious and is a big hit in our house. Cap'n Crunch cereal is not widely available in Australia, but can be purchased through various importers of American foods. We get ours online from USA Foods in Melbourne.
This recipe takes about 20 minutes to prepare and cook.
Serves 3-4 people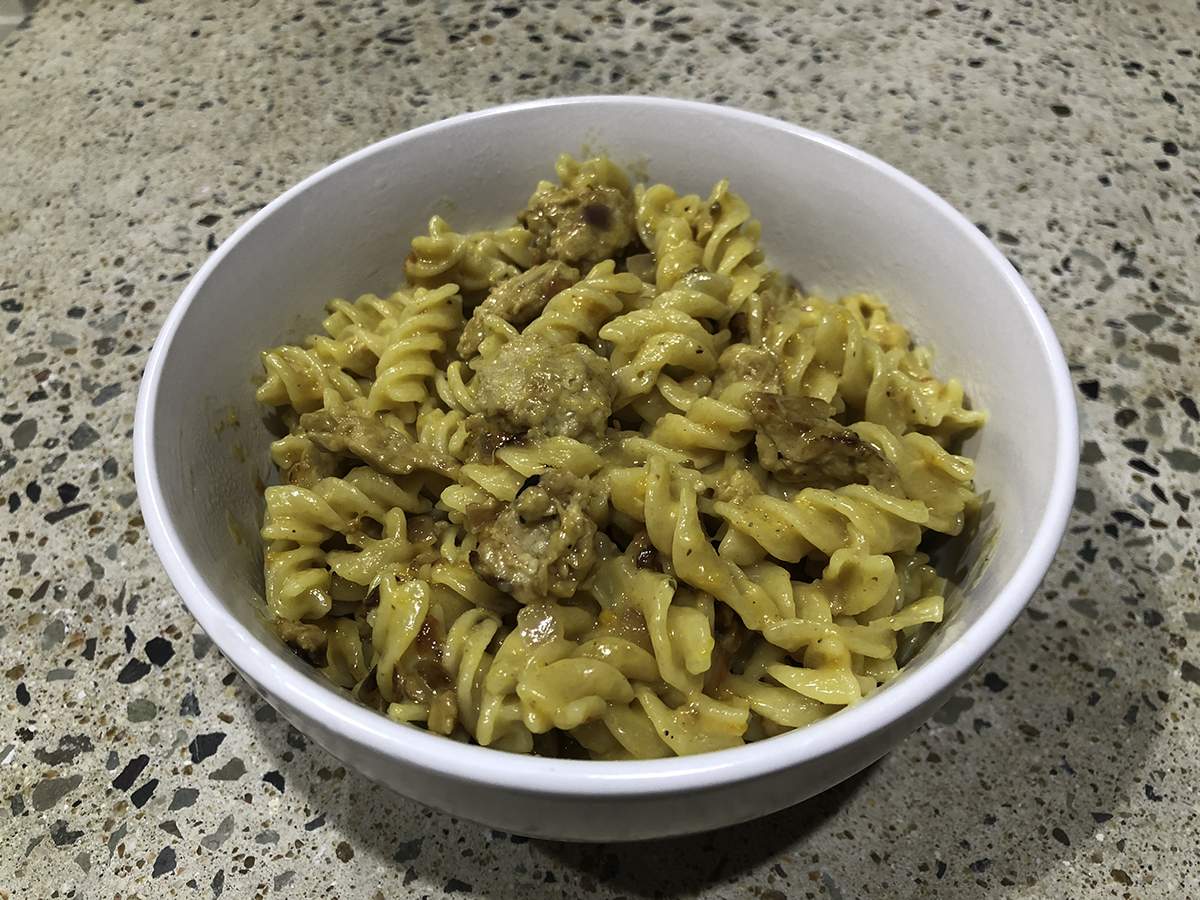 Ingredients
400g large spiral pasta
200g shredded Bio Cheese Cheddar cheese
1 pack Tofurky Slow Roasted CHICK'N (227g size)
1 cup Cap'n Crunch cereal, ground down to breadcrumb size
1 small tomato, diced
1 small red onion, diced
2 Tablespoons of Nuttelex
100 ml soy milk
1 Tablespoon Gulden's Spicy Brown Mustard
2 Tablespoons rice bran oil
* The spiral pasta can be substituted with macaroni, or any other suitable pasta. The Bio Cheese can be substituted with any other vegan cheddar cheese. The Tofurky Slow Roasted CHICK'N can be substituted with any other similar chicken style vegan meat. The Nuttelex can be substituted with any vegan butter. The Rice bran oil can be substituted with any suitable vegan oil. The Gould's Spicy Brown Mustard can be substituted with any vegan mildly spiced brown mustard.
Cooking Instructions
1. Boil water for pasta in a medium to large size pot. Cook pasta as per normal. Whilst waiting for the water to boil, proceed to step 2.
2. Add oil to a medium to large frying pan and put on a medium to high heat.
3. Add Tofurky Slow Roasted CHICK'N, onion and tomato to frying pan and cook for about 3-4 minutes until onion and tomato is cooked. The Tofurky CHICK'N is already cooked, and you are just heating it up.
4. In a seperate medium size pot, melt the Nuttelex and then add the soy milk and slowly bring to a simmer, then add cheese.
5. Continuously stir the cheese sauce until the cheese is fully melted.
6. Add the mustard to the cheese sauce and stir in thoroughly.
7. Once Pasta is cooked, drain and return to pot.
8. Add the cheese sauce to the pasta and mix.
9. Add the Cap'n Crunch and mix.
10. Add the Chick'n, onion and tomato and mix.
The Hollywood Mac N Cheese is now ready to serve.