Recipe Posted 28/04/18
This recipe is our vegan version of lasagna. There are many different recipes out there for vegan lasagna, adn we have found that this version is the closest to tasting like a classic lasagna.
This recipe takes about 60 minutes to prepare and cook.
Serves 6-8 people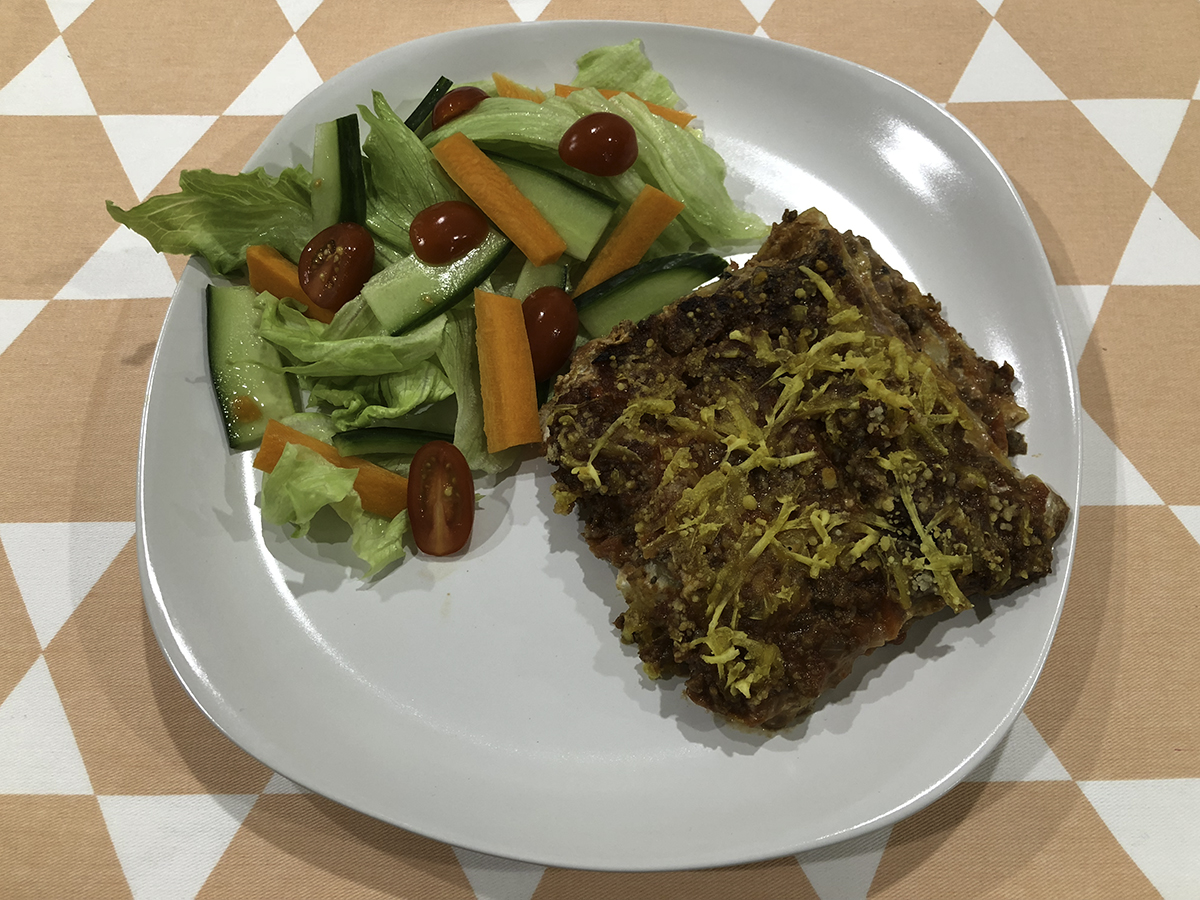 Ingredients
Tomato Sauce
1 pack Vegie Delights Savoury Veggie Mince (400g)
3 cans crushed tomatoes (400g cans)
1 onion
1 red capsicum
2 tablespoons oil
2 teaspoons minced garlic
1 teaspoon vegan beef style stock
Italian herbs to taste to your liking
Salt & Pepper to taste
Ricotta Cheese Mix
1 tub Tofutti Better Than Ricotta Cheese (454g)
2 teaspoons minced garlic
1 teaspoon Italian herbs
pepper to taste
Cheese Topping
1 pack bio cheese Cheddar Shredded (200g)
3 tablespoons of Follow Your Heart vegan parmesan style cheese
Lasagna Sheets
1 pack San Remo Instant Lasagna Sheets (375g)
Cooking Instructions
1. Pre-heat oven to 180 C
2. Heat oil in large pan. Add onion, capsicum and garlic until softened.
3. Add Vegie mince & cook on medium to high using a wooden spoon to seperate. Heat for 8 minutes or until brown, then add beef stock.
4. Once the meat has turned brown, stir in the crushed tomatoes then adding herbs, salt and pepper.
5. Simmer for 10 minutes while preparing ricotta cheese mix.
6. In a lightly greased baking dish, spread a bit of mince sauce on the base, then cover with lasagna sheets.
7. Spread 1/3 of the ricotta mix.
8. Spread 1/3 of tomato meat sauce.
9. Repeat layers, finishing with tomato meat sauce. Scatter grated bio cheese over the top & sprinkle with the parmesan cheese.
10. Cover loosely with foil, bake for 30 mins.
11. Remove foil & bake for a further 10 mins until golden brown.
The lasagna is now ready to serve. We usually have it with a nice salad or garlic bread.